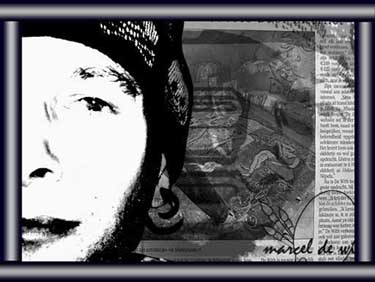 Biography Marcel de With.
Marcel was born in Sneek, Holland on the 26th of september 1964 but lives and works his whole life in Heerenveen.After finishing his school and a periode of work at several companies he decided to take a photography class at the association of printers and photographers in Amsterdam.When he succesly finished this class he worked many years in the graphic industry where he came in contact with a lot of museum's,art and galleries.
He always had the art flowing in his blood because of the genes from his father.Since 2004 Marcel has become a succesfull independent artist who sells a lot of paintings in request but also his free artwork is being sold around the clock.Marcel loves to paint with vibrant colours to achieve a enlighted and warm effect.One of his favorite theme's is a portret of one or more classical women but then painted rough,cause then you get a true Marcel de With artwork.Classical,colourfull but edgy.''My artwork has to look rough and classical,a meeting between history and the time we live in right now''For his paintings he uses materials like acrylic paint ,spraycans and crayon used loose by hand and with patterns.He finds his inspiration in the worldwide media,the internet and different cultures.
Paintings/and Exhibitions of Marcel de With are being sold on the internet,in different galleries but also straight from the artist self on www.marceldewith.com.