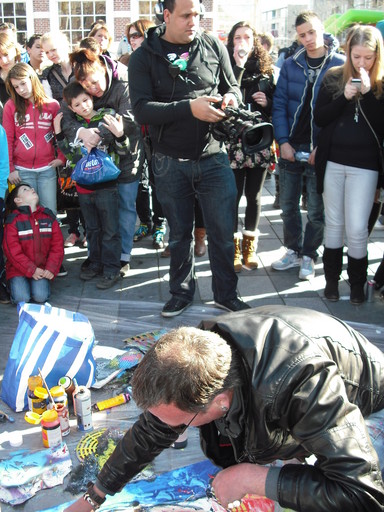 Marcel de With,26-09-1964.
Live action painting show for Warchild 2011.
TENTOONSTELLINGEN/EXHIBITIONS (Excerpt)
2006 Openbare bibliotheek Heerenveen.
2007 Makelaardij De Hypotheker Rotterdam.
2008 Colours in Art Breda.
2008 Restaurant Bla Bla Leeuwarden.
2008 Schilderij voor relatiegeschenk Dhr.Ed Nijpels ex Commissaris van de Koningin uit Friesland via restaurant 'Sir Sebastian' Heerenveen.
2009 Luxe restaurant Sir sebastian Heerenveen.
2009 Hospital de Tjongerschans Heerenveen.
2009 Exclusief Italiaans restaurant Per Bacco Heerenveen.
2009 Mith Fashion & Furniture Enkhuizen.
2010 Ondernemers markt Leeuwarden.
2011 Live action paintingshow in cooperation with sponsor radio 538 en cafe de Swetser t.b.v. Warchild in Heerenveen.
2011 Live action painting of a car in cooperation with sponsor "First class art" te Numansdorp, Art-Culinair summer market.
2011 Permanent exhibition group oaRobbert Utrecht Galgenwaard stadium boosters, Marcel de With, Menno Baars, Peter and Theo Klashorst Mackaay. sponsor Van Schaik&van Schaik art gallery Zeist.
2012 Moderne Kunstveiling Alkmaar.
2013 Huis en Tuin beurs WTC Fec Leeuwarden sponsor Moderne kunstveiling Avenhorn.
2013 Expositie, Kunstmarkt en Live Kunstveiling Herhugowaard sponsor Moderne kunstveiling.
2014 Kunstroute Heerenveen Cafe "Spoorzicht".
2014 Expositie in Luxe top restaurant "Novus" Heerenveen.
2014 Gallerie Moderne kunstveiling Heerhugowaard.
2015 Doorlopende Expositie in Luxe top restaurant "NOVUS" Heerenveen.
2016 Doorlopende Expositie in restaurant "NOVUS" te Heerenveen.
2016 Restaurant "Het Ambacht" Heerenveen.
PUBLICATIES/PUBLICATIONS (Excerpt)
2009 Bewonersblad Accolade Heerenveen e.o.
2008 Tweede editie Kunstgids kunstenaars 2008.
2008 Schilder Marcel de With succes door internet.Artikel Leeuwarder Courant.
2006 Ik wil iets voor het leven vastleggen.Artikel Heerenveense Courant.
COLLECTIES/COLLECTIONS (Excerpt)
Kunstart Breezand.
Galerie 10 voor Kunst Enkhuizen.
Galerie Lambert Ootmarsum.
Galerie online Colours in art Breda.
Private collections;
Amsterdam,Rotterdam,Zuid-Beijerland,Utrecht,Alkmaar,Veendam,Groningen,Breda,Limburg,Antwerpen,Belgie,Australia,Parijs,Curacao en Heerenveen.
EXTRA
Since 2007 Marcel gives workshop's at school at kids from the first and second grade.